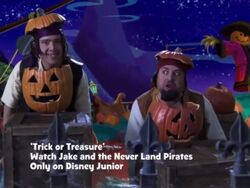 Trick or Treasure is song featured in the Disney Junior series Jake and the Never Land Pirates.The song is sung by Sharky and Bones in the episode of the same name.
On Halloween night in the pumpkin patch
Scallywags out with a plot to hatch
Are gathering under the moon to make their plans

In stripey socks they hulla-balloo
Treats to find and tricks to do
Skeleton bones with treasure in their hands

Spooky spook with a bone to pick
One more Halloween treasure trick

Trick or treasure Halloween pleasure
Under the pirate moon
When you count your share
You'd best take care
Or the trick may come to soon

Trick or treasure all together
Pumpkins all aglow
Playing tricks and gathering treats
Gathering private gold

Trick or treasure
Halloween
Trick or treasure
Halloween
Ad blocker interference detected!
Wikia is a free-to-use site that makes money from advertising. We have a modified experience for viewers using ad blockers

Wikia is not accessible if you've made further modifications. Remove the custom ad blocker rule(s) and the page will load as expected.