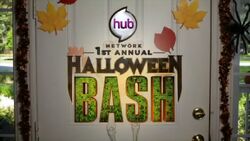 The Hub Network's 1st Annual Halloween Bash was a two-hour special celebrating the best of Halloween with a nationwide costume competition judged by a panel of celebrity presenters, including Halloween expert Martha Stewart. The two-hour extravaganza featured chart-topping musical performances, celebrity presenters and lots of entertaining tricks and treats for kids and their families. The live-to-tape special took place at Barker Hanger in Santa Monica, California.
Due to the Hub Network having been replaced by Discovery Family in October 2014, a second annual Halloween Bash was never produced.
Ad blocker interference detected!
Wikia is a free-to-use site that makes money from advertising. We have a modified experience for viewers using ad blockers

Wikia is not accessible if you've made further modifications. Remove the custom ad blocker rule(s) and the page will load as expected.