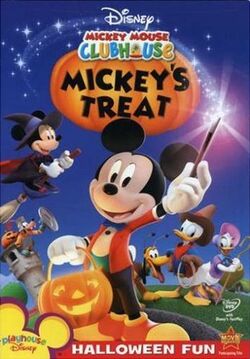 Mickey's Treat is the Halloween episode of the Playhouse Disney animated series Mickey Mouse Clubhouse, originally aired on October 28, 2006.
Pete invites everyone to a Halloween party at the Trick or Treat Tower.
Availability
Edit
The episode was made available on DVD on August 28, 2007. The DVD also included two other Mickey Mouse Clubhouse episodes, "Goofy the Great" "Doctor Daisy, M.D."