"I made a Pigeon-rat."
―Hugo.
Hugo Simpson is a non-canon character and Bart's conjoined twin in Treehouse of Horror VII. Shortly after their birth, they were separated by Dr. Hibbert.
Appearances
Edit
Treehouse of Horror VII
Edit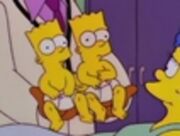 Bart, Lisa, and Maggie discovered Hugo after they heard strange sounds coming from the attic and after Homer spilled the beans about there being four Simpson children. As the "evil twin," Hugo had been consigned to living in the attic of the Simpson home and once a week was given a bucket of fish heads to eat because he was the evil one. Hugo also did experimental surgery to prepare for his eventual reattachment to Bart, and created a "Pigeon-Rat" in the process. The family later learned, however, that Bart was actually the evil twin, as Hugo's scar from when he and Bart separated was on the wrong side. Bart then took Hugo's place in the attic and was fed fish heads, while Hugo moved downstairs to live with the family.