"Halloween Bear" is the Halloween episode of the Playhouse Disney series Bear in the Big Blue House.
It's Halloween at the Big Blue House. The house is all decorated and everyone is getting ready. Bear helps his friends to find costumes and helps Tutter with carving a pumpkin. He always helps out Treelo when he's scared by Ojo's bat costume. Later, everyone gets together for some fun trick-or-treating. The kids have all picked out their Halloween costumes, but Bear hasn't been able to find anything to dress up as. The kids go through Bear's box of costumes and come up with an amusing idea. In the Shadow segment, Shadow performs the song "What Do Shadows Do for Halloween?"
What Are You Gonna Be for Halloween?
What Do Shadows Do for Halloween?
Trick or Treat
Throughout the special, a couple of pumpkins slide across the screen as a scene changer and sing the first couple of lines of the "Trick or Treat" song --- "We're going trick-or-treating / We'll shout a scary greeting."
In this episode, Treelo is scared of Ojo when he believes her to be an "icky" bat. Later on in the season, though, Treelo introduces all the kids to his bat friend, Benny, in "Bats are People Too" and they learn that bats are nothing to be afraid of. Apparently, Treelo met Benny in-between the events of this episode and that episode, or else he should not be afraid of someone dressed as a bat.
This is the fourth time the Goodbye Song is sung by the Otter Pond.
Video releases
Edit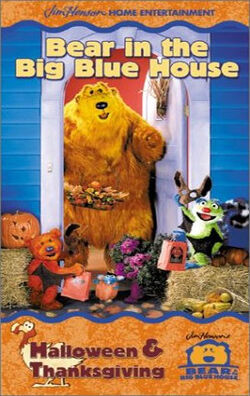 The episode was made available on the Bear in the Big Blue House: Halloween & Thanksgiving VHS, released in 2000.
External links
Edit