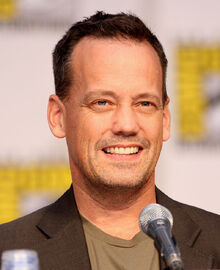 Dee Bradley Baker (born August 31, 1962) is an American voice actor and television announcer. His major roles include animated series such as American Dad!, Codename: Kids Next Door, Gravity Falls, Phineas and Ferb, Star Wars: The Clone Wars, and The 7D, live-action series such as Legends of the Hidden Temple and Shop 'til You Drop, films such as The Boxtrolls and video games such as Halo, Gears of War, Viewtiful Joe and Spore.
Voice roles in Halloween specials
Edit
External Links
Edit
Ad blocker interference detected!
Wikia is a free-to-use site that makes money from advertising. We have a modified experience for viewers using ad blockers

Wikia is not accessible if you've made further modifications. Remove the custom ad blocker rule(s) and the page will load as expected.