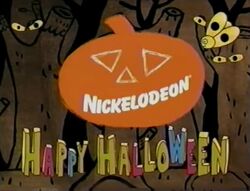 Nickelodeon (or Nick for short) is an American children's channel owned by Viacom and operated under its Nickelodeon Kids and Family Group. It originally began broadcasting as The Pinwheel Network in 1977 before relaunching with its current name in 1979.
Categorized here are Halloween specials, episodes, and movies originally broadcast on Nickelodeon as well as its sister channels NickToons, TeenNick and Nick Jr.
Pages in category "Originally aired on Nickelodeon networks"