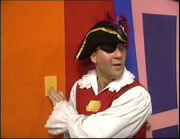 Captain Feathersword called "the Friendly Pirate", wears a hat, patch, and puffy shirt and wields a "feathery saber". He is best known for his catchphrase "Ahoy there, me hearties!". A running joke with the Captain is his use of the phrase "Well, blow me down!", which usually results in the characters nearest him obeying his wish by blowing him to the ground with a gust of breath. According to Wiggledance!, the Captain can even juggle balls, and he can ride a unicycle.
The Captain was created because The Wiggles understood that young children, especially boys, like pirates; they gave him a "feathersword" because they wanted him to be nonviolent and benign. Anthony Field originated the role, and he, John William Field, or Paul Field would play the Captain from 1993 to 1995. Paul Paddick began playing him in 1993 as well, and has played him full-time since 1995. Paddick has been called "the Fifth Wiggle". For many parents, his vocal impersonations are "the high point of the Wiggles stage show" and include singers Mick Jagger, Cher, Placido Domingo, and James Hetfield. Paddick is also able to sing at a very high falsetto.
Like the designs of Wags the Dog, Henry the Octopus, and Dorothy the Dinosaur, Captain Feathersword's design has gone through many changes, though only with his hat and feathersword.
Captain Feathersword likes to sail on the S.S. Feathersword, sometimes known as the Good Ship Feathersword.
Ad blocker interference detected!
Wikia is a free-to-use site that makes money from advertising. We have a modified experience for viewers using ad blockers

Wikia is not accessible if you've made further modifications. Remove the custom ad blocker rule(s) and the page will load as expected.