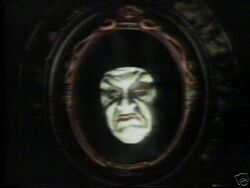 A Disney Halloween was a 90-minute Halloween-themed television compilation special that included portions from both Disney's Halloween Treat (1982) and Disney's Greatest Villains (1977) featuring classic short cartoons and excerpts of various villains from Disney feature films. It was hosted by an offscreen narrator and the Magic Mirror from Snow White and the Seven Dwarfs (played by the late Hans Conried). The opening and closing credits feature footage from the Silly Symphonies short "The Skeleton Dance", as did Disney's Halloween Treat, but the coloring on the skeletons has been changed to green.
The special first aired on October 1, 1983, and was shown during October for the following years on ABC and the Disney Channel until the late 1990s.
Introduction
Edit
In some versions, Disney's then-chairman, Michael Eisner, introduced the special along with Mickey Mouse (Wayne Allwine) and Minnie Mouse (Russi Taylor) in their incarnation as costumed characters from the Disney theme parks. Mickey tells Eisner that Goofy is on his way and "has been working on his costume for a month". There is a knock on the door we see Goofy's "costume": Michael Eisner, overdubbed with Goofy's (Bill Farmer) voice.
Featured segments with the narrator
Edit
In order of appearance:
"Night on Bald Mountain" from Fantasia (1940)
The Wizard's Duel from The Sword in the Stone (1963)
The Silly Symphonies short The Old Mill (1937)
Clip from Mickey's Parrot (1938)
Donald Duck and the Gorilla (1944)
The 'Heffalumps and Woozles' nightmare sequence from Winnie the Pooh and the Blustery Day (1968)
Pluto's Judgment sequence, consisting of three individual Pluto cartoons assembled together - Puss Cafe, Cat Nap Pluto, and Pluto's Judgment Day
"The Truth About Cats" from Disneyland (1956)
"We are Siamese" from Lady and the Tramp (1955)
The following segments were run after the Magic Mirror's segment of the program:
Featured villains on segments with the Magic Mirror
Edit
In order of appearance:
| | |
| --- | --- |
| | This page uses content from the English Wikipedia. The original article was at A Disney Halloween. The list of authors can be seen in the page history. As with Halloween Specials Wiki, the text of Wikipedia is available under the GNU Free Documentation License. |
Ad blocker interference detected!
Wikia is a free-to-use site that makes money from advertising. We have a modified experience for viewers using ad blockers

Wikia is not accessible if you've made further modifications. Remove the custom ad blocker rule(s) and the page will load as expected.